Nowadays the valley is most commonly called Germanasca after the name of the torrent flowing trough it. Previously, it was more common to use the name Saint Martin after the family name of the counts who dominated the valley.
The oldest traces of human life in the valley can be found at Raut bridge. Some suggest (others disagree) that the engraving that can be seen from the main road (or more easily directly on site by a few minutes walk) date back to the Paleolithic age. However there is much more evidence of very old human occupation of the valley.
At first it may appear odd that humans would choose such an hostile environment in which to live, with long snowy, bitterly cold winters and short summers; poor agriculture and difficult terrain… However, even in the past with no technological support, it was preferable to the plain. The plain was hot-humid in summer with malaria and cold-foggy during the winter months. Additionally, hostile armies from neighboring kingdoms were constantly traveling across the plain waging wars and laying waste to everything in their path. In the mountains, thanks to the hostile environment, wars did not arrive too frequently and malaria did not exist at all.
Life was tough for the inhabitants during the last millennium. People historically belonged to the Vaudois church established in Lyon in the 13th century which become part of the protestant church in the 16th century.
This gave rise to extended periods of persecution down the centuries. However, they survived the Albigeois persecution which wiped out the Cathar community. Then in 1655 with the so called 'Piemontese Easter' most of the population were put to the sword and the few surviving, sent into exile in Switzerland and Germany (Wuttemberg). Some of the survivors came back in 1689 during the so called 'Glorious Return', they re-settled and remain today.
The relationship with the authority developed over the centuries through periods of fierce persecution alternating with relative calm. Only in 1848 did the King of Piedmont officially recognize their full freedom.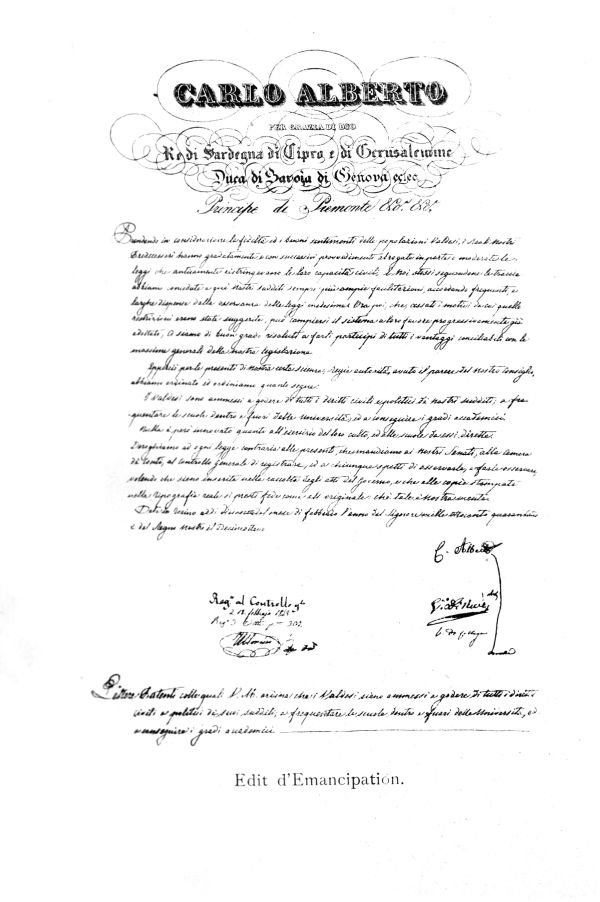 With this document King Carlo Alberto allows full freedom to the Waldenses in 1848.
Details about Waldesian history con be found on a wide range of books and sites.
For quick reference these are some examples:
History of the Waldenses; London, Cassel & company c1860 J.A. Wylie.
Researches among the Vaudois or Waldenses...; London 1827; William Stephen Gilly.
Lot more choice available on
Google Books.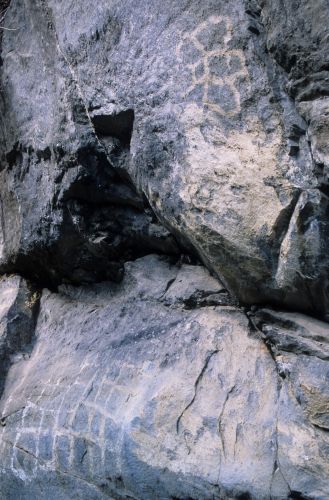 Raut bridge engravings.

^ Back to top