Avalanches are a normal phenomenon during the alpine winter. Inhabitants normally know them by name. Their size and danger is normally well known and buildings are typically kept at safe distance form them. However, abnormal situations do happen form time to time and human behaviour is not necessarily always wise.
So, deadly avalanches are historically known across the Alps both in old an recent times.
A good collection of available historical documents about this is the
"New documents unknown or unpublished on avalanches; by Carlo F. Capello; 1976".
This document also quotes this avalanche that in 1832 killed 11 people. The fact was so sad that it was also published in the UK on the book
"The waldenses or, vaudois of Piedmont; by William Beattie; 1837"
.
This avalanche does not happen every year because the mountain slope is relatively shadowed all the day long. However, when snow conditions are adequate it is normally massive. In December 2008 it filled the river and climbed a bit on the opposite side of the valley. In April 2009 it come again.
Climbing at summer up where the avalanche descends, it is very visible that big trees are missing or systematically destroyed. The presence of relatively big trees destroyed by the avalanche makes it clear that it does not happen so frequently. In places where the avalanche happens frequently only small plants can be seen.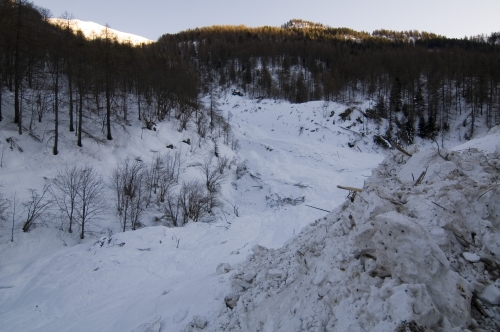 December 2008.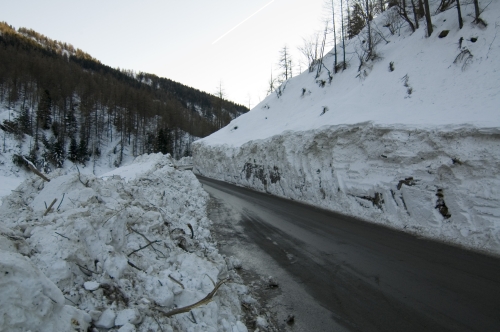 Maiera avalance reached the road climbing from the opposite side of the valley.
December 2008.

Second avalanche.
April 2009.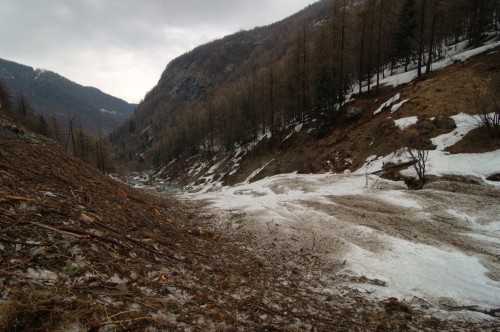 The Germanasca river covered by the avalanche.
April 2009.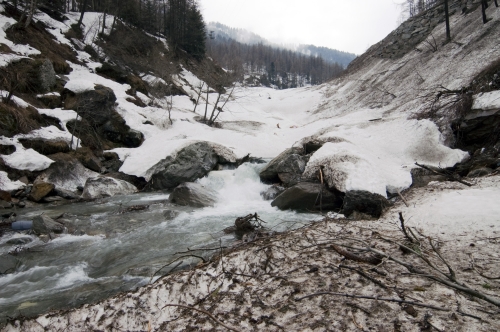 The Germanasca river exits from the avalanche.
April 2009.

^ Back to top