Here there are some pictures of Turin during the first winter of war 1940-1941 explained by the notes of Piero Sartorio [notes from the mid 1970s].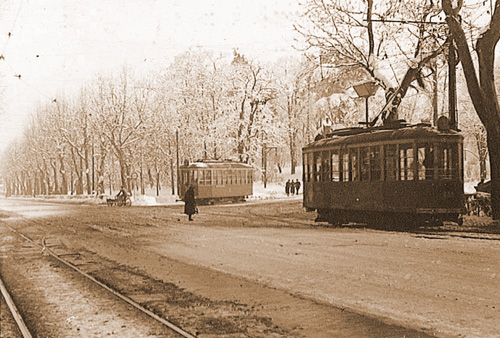 Corso Massimo D'Azeglio.
Turin, winter 1940-1941.
Pictures: Piero Sartorio.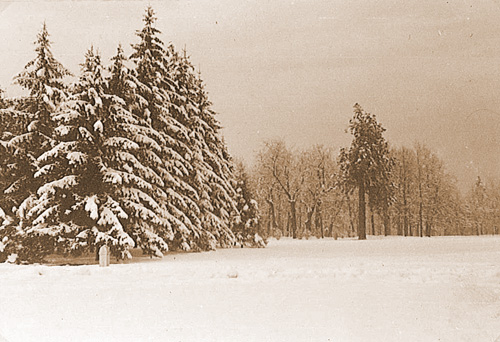 Snow on the trees of Valentino park.
Turin, winter 1940-1941.
Pictures: Piero Sartorio.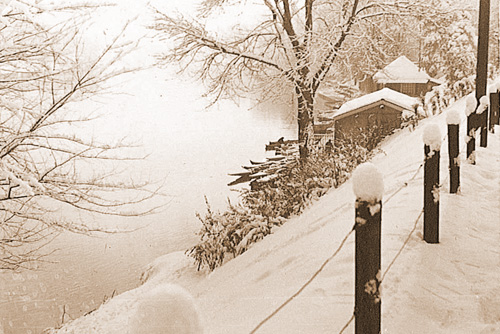 Siberia-like river Po.
Turin, winter 1940-1941.
Pictures: Piero Sartorio.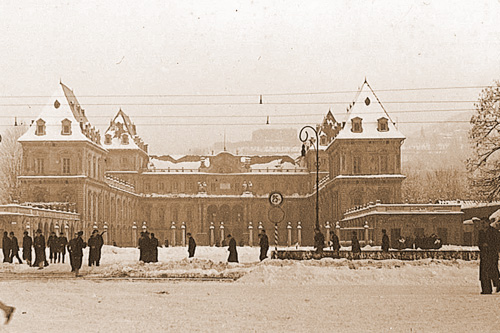 Snow being removed in front of Valentino Castle.
Turin, winter 1940-1941.
Pictures: Piero Sartorio.
When writing about my, or our feelings during the war, I take the risk to make big mistakes. I should need at least to refer to news papers of those years. I believe that the main concern was not the Reich invasion of France or Norway, nor the German successes on the Atlantic, nor the loss of Oriental Africa, nor our back and forth in Libya. The point was finding the food. Everybody was speaking of black market, white bread, surrogates or silly ways to find things otherwise missing.
And from this standpoint the inhabitants of the cities were in far worst conditions than us as, leaving in a small town, we could easily access to the resources of the countryside.
I don't remember precisely if it was in this period of time that my friend Beppo, who went to Africa with the first troops, was made prisoner by the British.
His parents got crazy and even looked ridiculous especially because, being a doctor, Beppo was living reasonably well, even as a prisoner.
Not only...
Some months later, after an exchange of prisoners, he came back home, fatty and happy talking very well about the British.
The political secretary learned about this, called him, and intimated him not to continue in this way too different form the official propaganda.
So, form that day, Beppo began to talk about his horrendous suffering in the prisoner camp.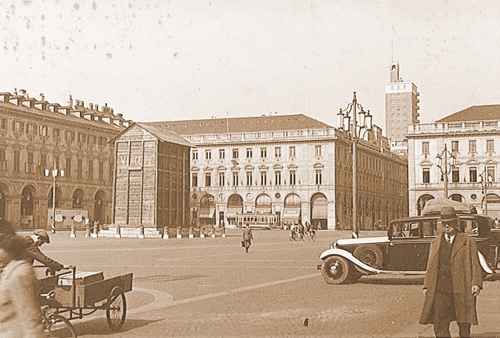 Piazza Castello in 1942. Even if the major bombings were still to come, it is possible to spot the destroyed roof on the left buliding where today there is the bank Istituto Bancario San Paolo. Also the monument to Emanuele Filiberto was protected.
Notes and pictures:
Piero Sartorio
.